How to enjoy the best Nightlife in Amsterdam
While Amsterdam is not the biggest capital in the world, it can still be a bit overwhelming to find out what the best Nightclub in Amsterdam is amongst all the different offerings. Out of our own experience, we'll help you out with tips and recommendations on how to organize your best night out in Amsterdam.

Where to begin your night in Amsterdam?

While the locals are still at home, the city is yours! If you're visiting the city with a group, you could go cruising, get a beer bike or enjoy dinner at one of the many different restaurants Amsterdam has to offer. If this is the moment you start planning your night out, the complete guide for Nightlife in Amsterdam is also a must-read.  
How to get around the city?
While there is a lot to do, there are definitely a few no-go's when you dive into the Amsterdam Nightlife. The city-centre itself is quite small and easy to navigate on foot, and because there is so much to see in the city, it is recommended to go on foot. After sunset, when the lights go on, the city's true beauty reveals itself. 
However, if you feel lazy, keep in mind the city is very well-connected by public transport. There are trams running through the whole city and under the city centre, there are 2 metro lines. At the GVB, you can buy a ticket for less than 3 euros, valid for 1 hour in bus, tram and metro. 
If you're at the end of the night and don't want to walk all the way back to your accommodation, you can take a taxi, but always use the official taxi stands and discuss the rate prior to getting into the cab. Not all cab drivers are allowed to drive in the city itself and those are usually avoided at the taxi stands, but they will offer their services while they drive past you on the street. Avoid them and don't get ripped off.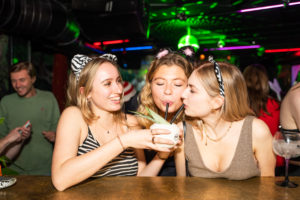 Start your night with the Pizza Cruise Amsterdam
One of the most popular things to do in Amsterdam, if you're here to party, is to start off on the water. The Pizza cruise Amsterdam combined the fun of cruising the canals while enjoying your drinks along with eating a luscious pizza on board. Over the last years the Amsterdam canal belt had a huge renovation which made sure that all the old architecture can be enjoyed again from both the streets, and the boats! The Ideal combination of drinks, food and cruising is our favourite activity to start your evening with! 
No fan of Pizza, or already had dinner? Go for the Amsterdam Booze Cruise!
Cruise, dance and drink! Those are the ingredients of the Amsterdam Booze Cruise. Your captain and host will provide you with enough entertainment while you dance your way across the Amsterdam Canals, while they ensure you will never become thirsty! The booze cruise is including an unlimited open Dutch bar (beer, wine, bubbles and soft drinks) for the whole time of the cruise. If you're with a group of friends celebrating a birthday, or visiting Amsterdam on a stag do, this is definitely a recommended thing to do in Amsterdam! 

Shake up your night with the Amsterdam Cocktail Workshop
If you're visiting Amsterdam with a group of friends, it could be great fun to start off with something educational, but including alcohol. Guided by an expert cocktail shaker, at the Amsterdam cocktail workshop, you'll learn the in's and outs of some of the most tasty cocktails. Afterwards, you'll really know what 'shaken, not stirred' means, and you should be warmed up for the Nightlife in Amsterdam! You can even go fully local and book yourself a 'Dutch Cocktail Workshop' that includes cocktails such as the Weed and ''Stroopwafel' cocktail
The best way to discover the Amsterdam nightlife is at the Amsterdam Pub Crawl
If you are new to the city, a bit overwhelmed with the offering and don't want to spend too much time searching for the best places to go to, the Amsterdam Pub Crawl is your best choice. Instead of ending up in a tourist trap, you sign up and follow the entertaining nightlife guides who know the best places in Amsterdam's nightlife. Because all entrance fees for 5 bars and a nightclub, along with a free drink at each venue and lots of vodka shots are included in the price, you will get an awesome value for your money, while you get to know party-people from all around the globe!

Clubs in Amsterdam
Amsterdam is famous for it's clubbing scene, and we house some of the world's most famous DJ's! There is an incredible selection of top-end clubs in Amsterdam, with a variety in size, music and type of crowd. However, there are also a lot of tourist traps, which you can usually distinguish by the promotors in front of the door, offering free shots, 2-for-1 deals, or other amazing sounding drinks deals. If an offer is too good to be true, it usually is. You could be offered a watered down shot or 1 regular drink is all of a sudden poured in 2 glasses and handed over as 2 drinks. 
Gladly, there are more great Amsterdam clubs than there are not-so-great ones. There are some great ones found around the Leidseplein area, but the real place to go to for clubbing, is Rembrandt Square area. Famous clubs like Club Air and Escape are located around this area. 
One of the newest clubs in Amsterdam, The Jungle Club, is also located near the Rembrandt Square area. Because of its great location, awesome DJ's and good drinks deals, it's already becoming a must-visit for first-timers and regulars in the Nightlife in Amsterdam! 
Visiting Amsterdam with colleagues
Of Course, not every company is the same, but the coolest companies can definitely include the Amsterdam nightlife in their team building programme! Besides the various nightlife activities Amsterdam has to offer, there are numerous alternative team building activities in Amsterdam you can choose from. Of course, you can always go clubbing afterwards as well! 
What to avoid in Amsterdam's Nightlife? 
We all know what Amsterdam is famous for, and we are not talking about the architecture! As a city with such a pumping nightlife, Amsterdam definitely has some things that it's infamous for as well. 
Firstly, while the Netherlands allow you to buy and smoke weed, it's not allowed to smoke inside bars, unless they mentioned this specifically. You are allowed to smoke outside, but keep in mind not everyone will enjoy your smoke. While we're at it, only buy your weed at coffee shops, and we recommend you smoke your joint inside. Never buy anything, but especially drugs, from people on the streets. This is either of very poor quality, extremely risky to use, or simply not what you wanted to buy. 
Secondly, in Amsterdam, there are a few designated areas where you will find sex workers in the windows. This area is very different then other Red Light Districts such as in Bangkok or Hamburg. While it might look tempting, tapping on the windows, making fun or disrespecting the ladies or just blocking their window is a no-go. They are just doing their job, so please let them do so. 
Lastly, while you have had a few beers and walking to the next bar, you might feel nature calling. Keep in mind urinating on the streets, into the canal or against any window is forbidden and will result in a hefty fine. Luckily, there are many public urinals scattered around the city and there is always one close by. 
We hope this will help you with tips, tricks and inspiration for your next trip to Amsterdam! If you do need some more help with planning your best night out in the city, feel free to contact us for recommendations!